6 SEO shortcuts to get you started on your content optimization
So, content optimization is making your content more reader-friendly, engaging, and actionable to your readers so that they can do what you like them to do with it. The best way to start optimizing your content is to use any tools for content optimization. These tools will help you keep testing and analyzing your content to put out your best work consistently. It's hard to get good results online if you don't understand how SEO and content marketing work together. When it comes to business visibility, it's all about how well you rank for the most important things to you. People who look for SEO companies already know that they need an SEO Marketing Services expert to help them find them. Consumers who live a fast-paced life will love this new-age digital world because it is so easy for them to get things done. It is also a way to express ourselves and quickly find out what is around us. SEO, link building, and other content marketing strategies can help you get your content seen by search engines and loved by your audience. This will help your business have a robust online presence for many years to come, which will help your business grow. The following are six SEO shortcuts to help you get started on improving your content's SEO.
Use keywords naturally and strategically
If you want to find out how search terms and phrases perform, use Google's AdWords Keyword Planner. It would help if you used long-tail keywords more specific to your product or service. If the page isn't immediately relevant to someone's search query, they're not going to stay long. Please don't use the same word too many times in an attempt to rank higher. You will sound robotic and insincere, and Google will punish that page by moving it down in the search results. Instead, try to add related phrases to your keywords to make them more interesting to read about. By including keywords and other descriptive words in your URLs, you will show that your website can help the person with whatever they may be searching for. In terms of getting backlinks, many links to your site will have the URL as the anchor text, which can help your site's rankings.
Optimize your images
The faster a website loads, the less likely a user is to get frustrated and abandon it. As a result, load time is an algorithmic component that influences your website's position in search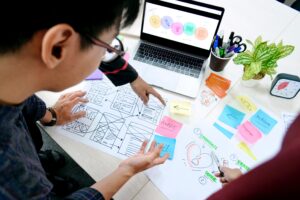 engine rankings. Having compressed image file sizes is beneficial because photos are frequently the major contributor to page load speeds.
Write compelling meta descriptions
Visible meta descriptions are 148–155-character excerpts that summarize the content of a webpage and are displayed alongside the title tags in search engine results. Consequently, it is critical to optimize these descriptions to represent your site and pique readers' curiosity effectively. While these do not directly affect your rankings, they do have an indirect effect on user behavior.
Make it easy to share
An article from the Social Times says that research shows that people like to share content they can connect with other individuals who have identical interests. Even though people want to share content, they won't do it if it takes too much time. Individuals will be more likely to transfer your content if they have a simple way, leading to more backlinks with value.
Analyze and track your data
Google Analytics or other tracking software can be used to help you determine where your visitors come from, how long they last, and what they do while on your site. By keeping track of your metrics, you will be able to do a gap analysis and make data-based decisions about what is and isn't working. This will allow you to make strategic and tactical changes to your SEO and content strategy.
Create an Editorial Calendar for SEO Content
Make an editorial calendar so you can stay on track and not run out of ideas. To ensure that deadlines are met, you should share the calendar with your team and set up reminders. Decide how often you should post new content. It's better to make one great piece of SEO content than two bad ones. You don't like to prepare too far ahead. It can be hard to write good content when your staff changes, your marketing goals change, or your budget doesn't. So that you have room to change your content to meet the needs of the public and your business, you should plan only a few months.